To answer questions from Mom:
How was your investigator attendance for church yesterday?
Patricia could come to church yesterday, and Gloria had to go after the first hour. Only Over came to the three hours yesterday.
Did you have to teach anything?
We don´t have líder misional [a ward mission leader] now, and we don´t have a teacher for Principios del Evangelio either, so I´m teaching every week now.
Do you ever lead/accompany the music?
Here no, there isn´t a piano. They have a CD of the hymns and have than on but no one follows it anyway.
I imagine they sing about the same as in Cajamarca.
They do.
Do they have those pre-programmed pianos with all the church music on it?
They did in Zenú, but here no.
What are you trying to get done during your P-day today?
House cleaning, I have enough clothes for two weeks so I only wash every 15 days, so this week no. We are going to buy another pair of shoes for Élder Martinez, and at 3 we are going to play futbol with all the missionaries in the stake.
Do you always have your laundry done for you by some lady in the ward for a couple of bucks?
Nope, never done it and never want to.
What did you have for breakfast?
Today, Palitos de pan de queso [essentially, cheese sticks] with milk and chocolisto (chocolate milk mix).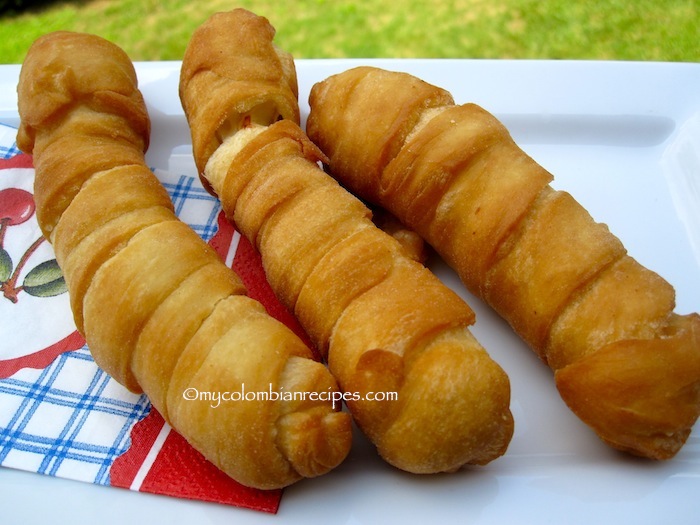 We often fry eggs and eat it with bread, sometimes yogurt with oreos, I made a jugo de [juice] papaya, manzanas [apples], good stuff.
How often do you eat with the members?
All almuerzo [lunch] is with members except pday. In our citas [appointments] in the night, they almost always give food also.
What do you want to learn to cook that you've had there?
Here, almost everything is fried. So, basically everything I know how to cook is fried. Salchipapas [Latin French Fries], huevos fritos [Fried Eggs], jugos frutales [fruit juices], limonada de coco [coconut lemonade], arroz [rice]. I want to learn arepa [

a type of food made of ground maize dough or cooked flour

]

. I´ll find out someday to make sancocho [a traditional soup]. It´s not like Peru with all your [list of Peruvian foods:] papas a la huancaina, aji de gallina, milanesa de pollo, lomo saltado, ceviche...the foods are more simple here.
About investigators, Patricia and Over are going well, but everyone else is shaky. We´ve been meeting a lot of people and having success with references, but I hope to give a better update next week.
Story not for the faint of heart. Just kidding -- it´s funny. I'll tell it in Spanish, someone can translate.
Entonces estamos bajando una loma en el área y un man nos acompaña y nos preguntó si eramos evangelicos, y dijimos que no. Preguntó si eramos cristianos, dijimos que creemos en Cristo pero no creemos lo mismo que muchos cristianos. Dijimos que eramos mormones y él no había escuchado de mormones pero igual no le importaba. Siguió contando que algo de policias, que era el hombre más buscado del barrio, y en fin dijo que en esa esquina mataron a su hermano pero no sé porque nos dijo eso. Después nos dijo que le diéramos nuestros celulares o nos "explotara" poniendo su mano en su chaqueta finjiendo una arma. Por no tener conflicto, dije a Élder Martinez que sacara el celular y dije al man que iba a sacar la tarjeta SIM (para que fuese más fácil conseguir reemplazo) y dijo que sí. Cuando le dimos el celular y cuando vio qué celular era, nos dijo que tranquilo que no lo quería. Casi sentí mal que ni los ladrones quieren nuestro celular sencillo. Siguió pidiendo nuestros tables, portátiles, y otras cosas, que oviamente no teníamos. En fin, nos saludó (con la mano que supestamente tenía la pistola) diciendo que Dios nos bendijiera. Al irnos, se acordó y pidió nuestro dinero. Élder Martinez le dijo que como era Domingo, no cargamos dinero porque no compramos nada. Al inspeccionar nuestros bolos y solo ver libros, nos saludó de nuevo (con la misma mano) y se fue. Nos fuimos riéndonos por la bobada que fue.
[
So we were going down
a hill in the area and a guy was with us and asked us if we were Evangelicals, and we said no. He asked if we were Christians; we said we believe in Christ but do not believe the same way as many Christians do. We said that we were Mormons and he had not heard of Mormons but it didn't really matter to him. He kept telling us something about cops, that he was the most wanted man in the neighborhood, and finally said that in that particular corner they killed his brother but I don't know why he told us that. Then he told us to give him our phones or he would "blow us up" putting his hand in his jacket pretending it was a handgun. To avoid a conflict, I told Elder Martinez to take out the phone and I told the man we would remove the SIM card (so it would be easier to get a replacement phone) and he said OK. When we gave him the phone and he saw what kind of phone it was, he told us calmly that he did not want it. I almost felt bad that not even thieves want our simple cell phone. He kept on asking for our tablets, laptops, and other things that we obviously did not have. Anyway, he waved goodbye (with the hand that supposedly had the gun) wishing God's blessings on us. When he was leaving, he remembered and asked for our money. Elder Martinez told him that as it was Sunday, we do not carry money because we do not buy anything. Upon inspecting our bags and seeing only books, he waved goodbye again (with the same hand) and left. We left laughing about the nonsense of it all.]
I was reading in 2 Crónicas this week and was thinking about this. When the kings of Judah depended in Jehovah, they prospered and won the wars and all. After a couple years of success, they started following other gods. Doing so, their success ended but refused to return to Jehovah. A probable reason is pride. Often it says that they lifted themselves up and then went after other gods. With all the success, they saw themselves and the powerful ones, the one responsible for the success. With their pride growing, they couldn´t admit that it was God and not them. To make it worse, when they started believing more in themselves, the success ended. We often to the same thing. I´ve seen it in my mission, that the area grows and grows but when I start thinking that I´m so great for having a great area, people start not progressing, people aren´t home, we lose investigators, and we have an empty area again. It´s a danger for everyone, and the only way to avoid it is just always depend and trust in God, and be humble, always giving thanks.